Located just about 15 minutes by speedboat from the popular Sipadan Island, Mabul Island in Malaysia is known for its sandy beaches and clear waters. Aside from that, it's also a paradise for adventurous divers and is a great location for underwater photography.  
Surrounded by gentle sloping reefs and clear waters, Mabul Island is home to the Bajau Laut tribe, which is one of many ethnic groups in Sabah. Throughout the year, many people arrive on this island to dive. With more than eight popular diving spots, it is no wonder why tourists and divers from all over the world are drawn to this idyllic spot.
How to get to Mabul Island
To get to Tawau from Singapore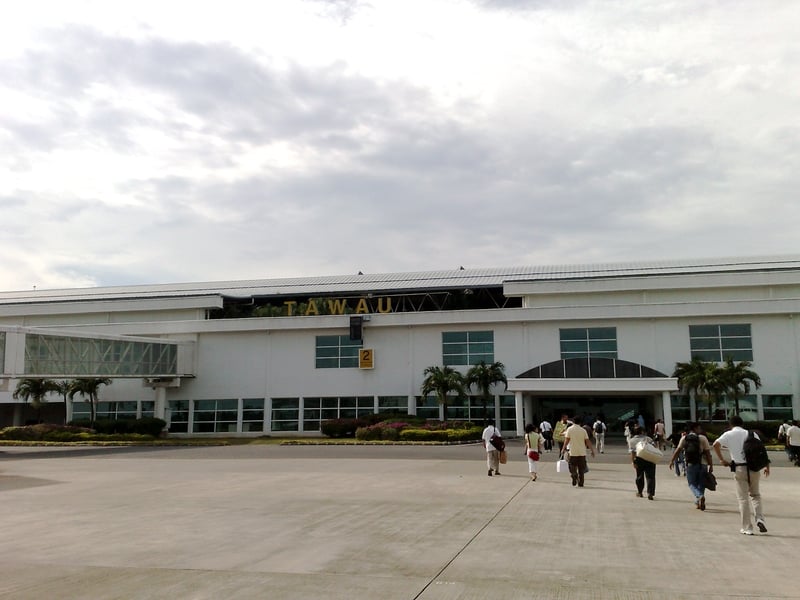 The best way to get to Mabul Island would be to first fly to Tawau Airport, which is the airport nearest Mabul Island. However, there are no direct flights from Singapore to Tawau, so you can consider transiting to Kuala Lumpur, Kota Kinabalu, or Johor Bahru. From there, it will be easy to fly to Tawau.
To get to Semporna Jetty from Tawau Airport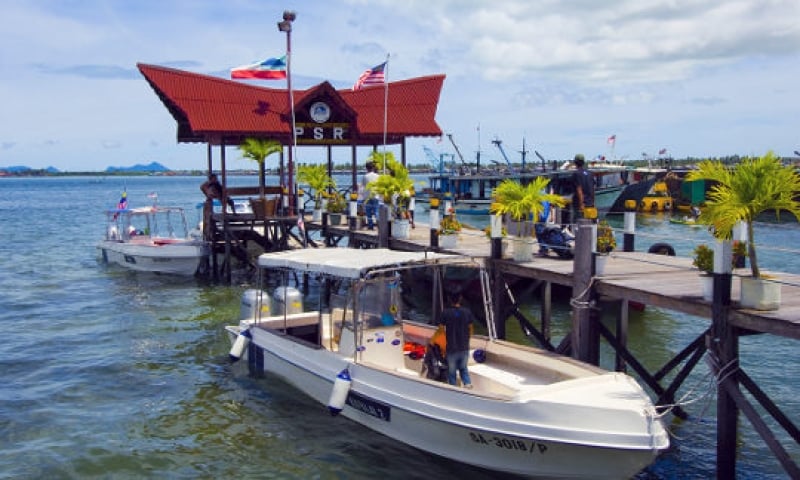 Via taxi
Taking a taxi from Semporna Jetty to Tawau Airport will take approximately 75 minutes and cost you about RM95. This option will be ideal if you are travelling in a group because you can split the cost among more people.
Via bus
Buses are only available from Tawau town, and you can get there by taking the airport taxi which costs about RM48 and will take about 35 minutes. From there, the bus from Sapindo Square to Semporna will cost you about RM15 and take about an hour and a half.
To get to Mabul Island from Semporna Jetty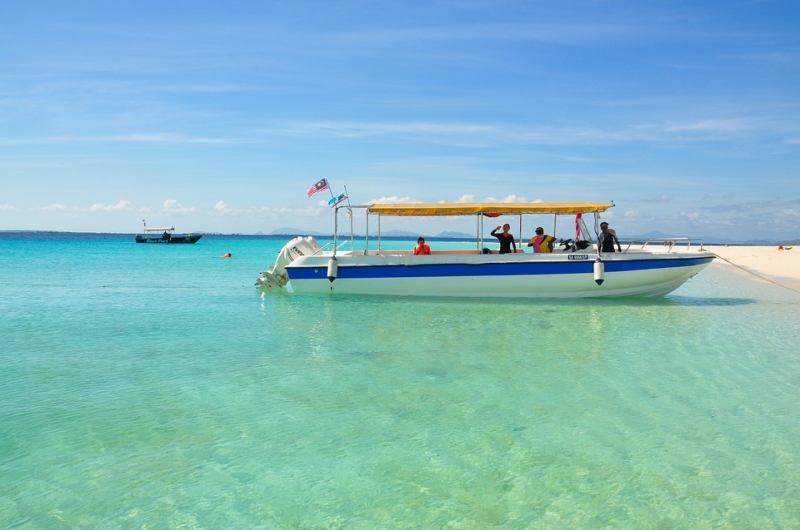 Finally, you will have to take a boat to Mabul Island, which will take about 35-45 minutes, depending on weather conditions. Boat rides from Semporna to Mabul Island are operated by diving operators or resorts. Do note that your resort or diving operator may offer transport services for pickup at the airport and the boat ride to Mabul Island at competitive rates, so do check them out prior to arrival.
Things to see and do at Mabul Island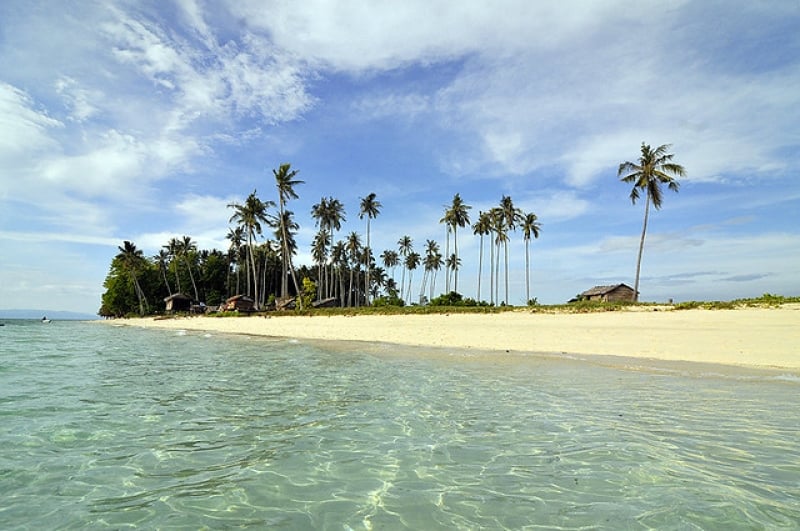 From participating in water sports to lazing around on the sandy beaches, there's bound to be something for you at Mabul Island!
Kayaking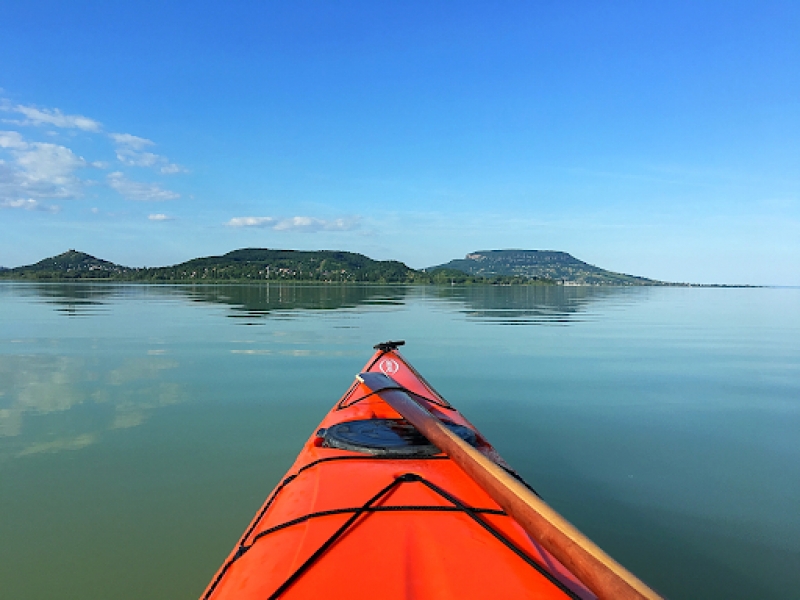 Kayaking is a popular activity to do at Mabul Island, and kayak rentals are available throughout the year, at approximately RM30 per hour of rental. What's unique about their kayak rentals is that besides the usual opaque kayaks, they also offer the Molokini, which is a transparent kayak that enables you to have a closer experience with the marine life beneath you. Kayaking at Mabul Island is one of the best activities you can sign up for to bring you to places unreachable by foot.
Snorkelling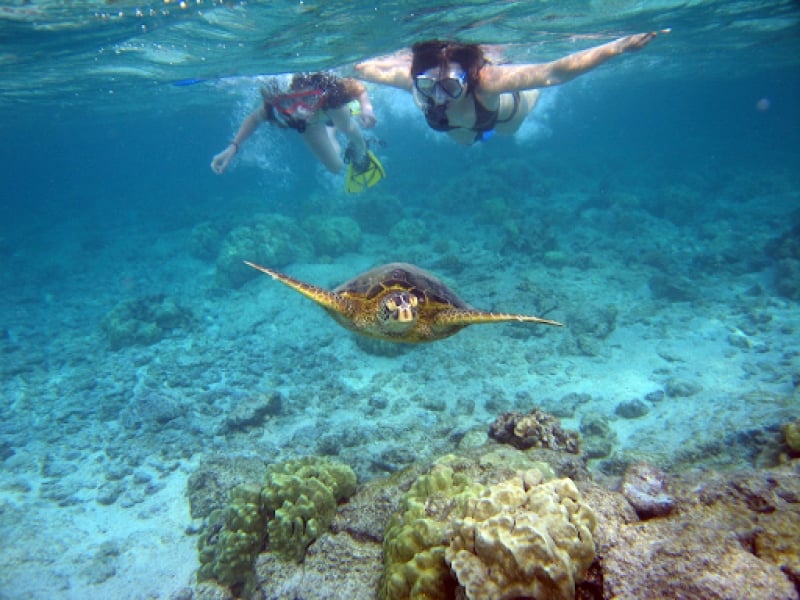 Besides its pristine beaches, Mabul Island also offers snorkelling, which is one of the best ways to observe an abundance of marine life. From blue spotted stingrays to graceful turtles swimming through, the best part is that you can get close up with marine life not seen anywhere else. Even if you do not intend to stay at Mabul Island, there are transport services to bring you from Semporna to Mabul.
Snorkeling at Mabul Island is beginner-friendly where no special equipment or prior experience is required. However, it is recommended for one to snorkel with a friend or in a group. Lastly, don't forget to bring your underwater camera if you have one, and snap away while you're swimming with the marine animals!
Diving
Despite being situated in close proximity to the well-known Sipadan Island, the seascape and diving experience at Mabul Island are totally different. Known as one of the best "muck-diving" sites, there are countless marine critters residing on this island for you to discover. Many people flock to Mabul Island mainly to dive, and you'll be glad to know that it's open for diving all year round. However, to maximise your visit, it is best to go during the dry season from March to October.
Visit the Bajau Laut (sea gypsies) Village
The residents of Bajau Laut are known as 'Sea Gypsies' due to their seafaring lifestyle, where they rarely set foot on land. They prefer living above the sea and would only go ashore for business-related purposes. However, many of the sea gypsies still remain as stateless people as many of them do not own citizenship to any country. Nevertheless, Bajau Laut today has become a popular tourist destination for tourists and divers from all over the world.
Regatta Lepa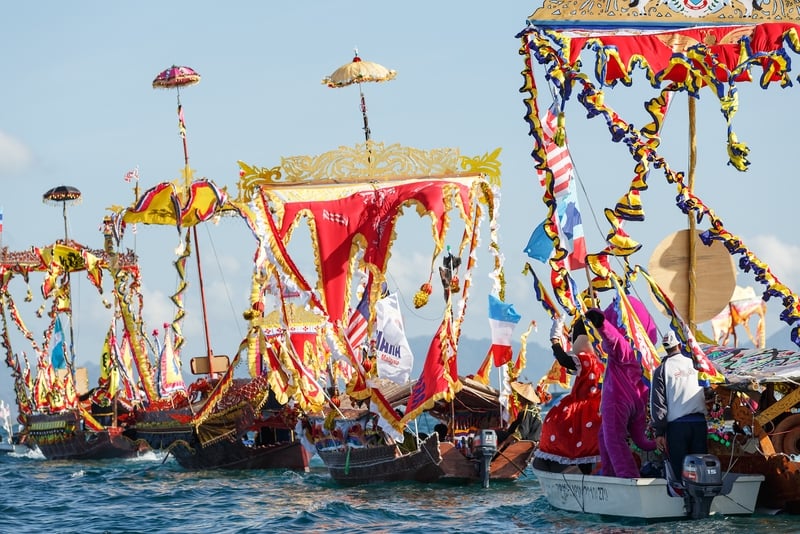 If you are heading to Mabul Island in April, do check out their annual Regatta Lepa Festival, which takes place at Semporna. Regatta Lepa is a water festival that showcases the customs and traditions of the Bajau Laut. It is a series of celebrations that span over 2 to 3 days, and many come from all over Sabah to participate in this water festival. A few of the marine sport activities you can look out for are the tug-of-war, small dugout boat race, and the duck catching competition. Regarded as a national festival, the Regatta Lepa is one that you would not want to miss if you're heading to Sabah in April.
Catch the sunrise/sunset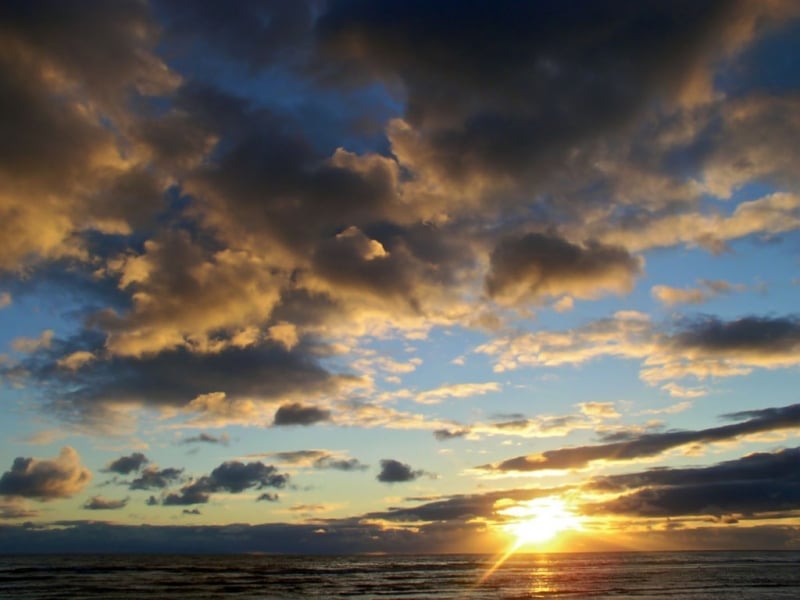 Situated in Sabah, Mabul Island belongs to the Malaysian state that is the first to witness the golden rays of the sunrise every morning at about 5.45am. This may not be for late risers, but the early bird does catch the worm and it'll be so worth it. If you can't make it for sunrise, you can join the villagers to enjoy the sunset as they prepare to end their day in your own comfortable spot.
Accommodation at Mabul Island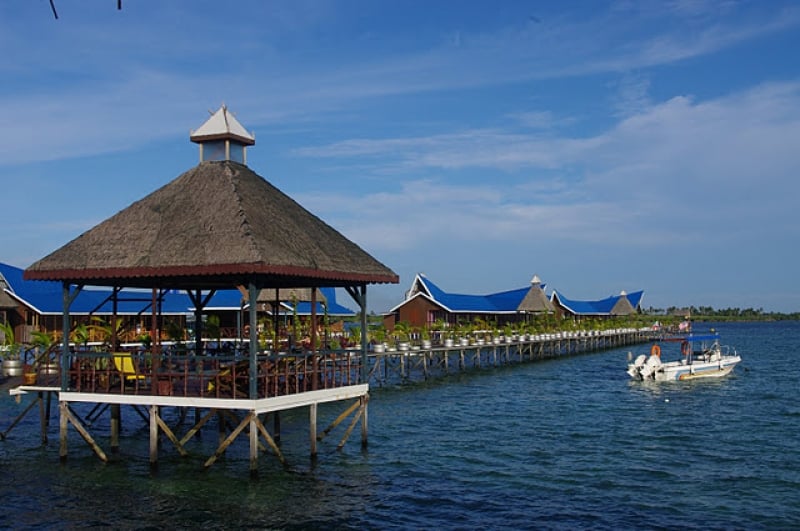 There is an extensive range of accommodation options for you to choose from for your stay at Mabul Island, regardless if you're a solo backpacker or travelling in a group. From luxurious stilt bungalows to budget beach resorts, you will definitely love staying at any one of these resorts.
Mabul Beach Resort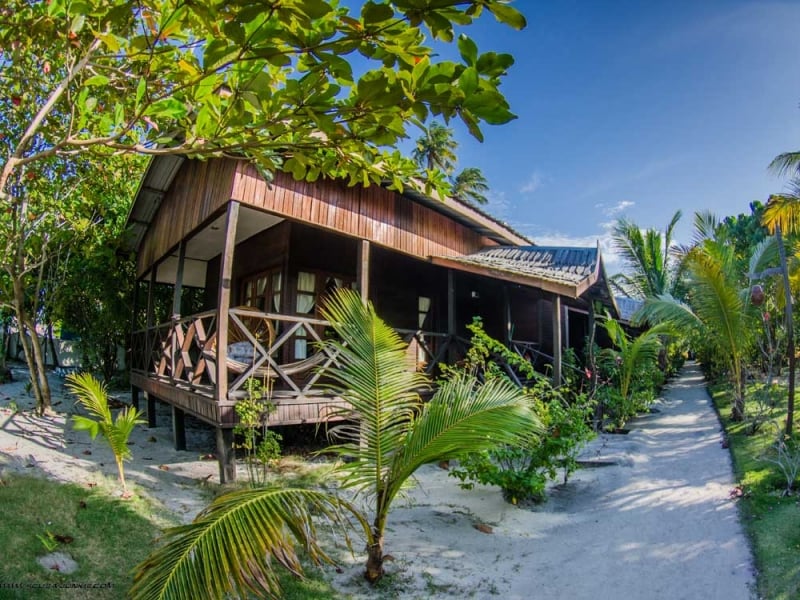 Mabul Beach Resort definitely remains a favourite. There are plenty of rooms to choose from and relaxing spaces to chill in facing white pristine beaches, while surrounded by lush greenery. Meals are provided for all room rates and are served buffet style, but no seafood are served as they strictly enforce that "fish are friends, not food". However, you can only stay here by booking a trip with Scuba Junkies (there is no "accommodation only" option), and room rates are cheaper if you book it with a diving package.
Borneo Divers Mabul Resort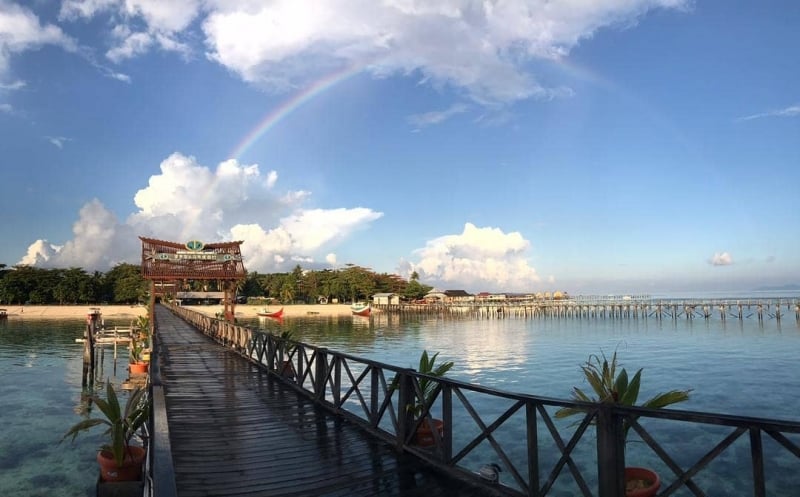 Located at the heart of Mabul Island, Borneo Divers Mabul Resort is an internationally recognised diving spot surrounded by diverse marine life. Besides diving and exploring neighbouring islands, there are also other services available such as beachside massages. This resort caters to all who are looking for a relaxing stay. It's also a popular choice for underwater filming junkies as they have a professional underwater video and filming centre to meet your filming needs when you are there.
With so much in store for anyone who visits Mabul Island, you'd definitely want to make a trip down for your next holiday!