Grand shopping malls, luxury dine inns, graceful colonial buildings, and historic street marts amidst high rises – Singapore is sinfully famous for its sheen of wealth and glamor. Besides, the vibrant heritage and diverse ethnicities of the city-state celebrates its lives in the shades beyond imagination. Be prepared to get dazzled as we take you down the lane of popular festivals in Singapore. Add these vibrant festivals in Singapore to your list.
Here are  festivals of Singapore that can surely add a lot more fun to your Singapore vacations. It is a smart idea to plan your trips around these festivals. So, we are also providing you the months/dates when these festivals are observed.
1. Christmas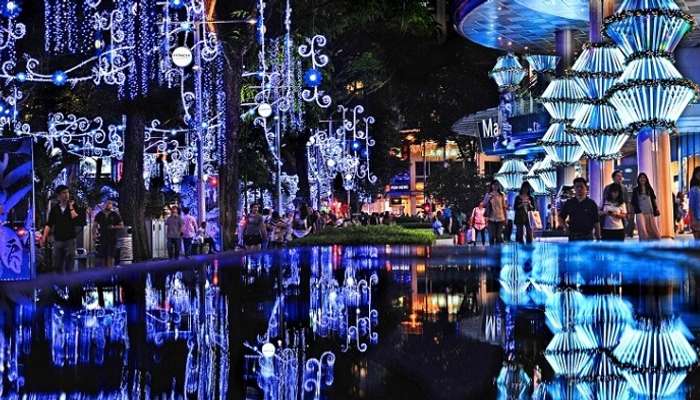 Lights! Camera! Christmas! Come mid-November and the streets of Singapore turn into one of the most enchanting fairylands at night. Singapore celebrations during Christmas are beautiful. Thousands of glittering lights and bulbs drip down from decorated trees and arches while the roads dress up like they are going to host a carnival. Christmas in Singapore is the nicest way to end the year.
Key attractions: The Christmas carnival on the Orchard road, fantastic festive decorations where the malls try to outshine each other to win the popular 'best-decorated mall' award
Don't miss: The street performances
When: 25th December 2020
2. Chinese New Year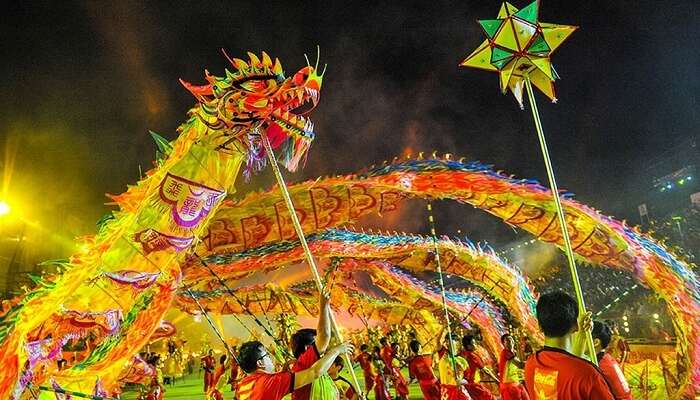 This is one of the most popular Chinese festivals in Singapore. Entire Chinatown comes together for a fortnight, every year, in the middle of January and celebrates what is also known as the Lunar New year. During the Chinese new-year celebration, houses are cleaned and beautifully decorated. The malls and streets are dolled up with bright red and extravagant decorations.
Key attractions: Decorations, ornamented houses, stalls selling raw fish salad, night markets, and temples which open their doors for public entry
Don't miss: Dragon Dance and Chingay parade at Marina Bay
When: 25th – 26th January 2021
3. Thaipusam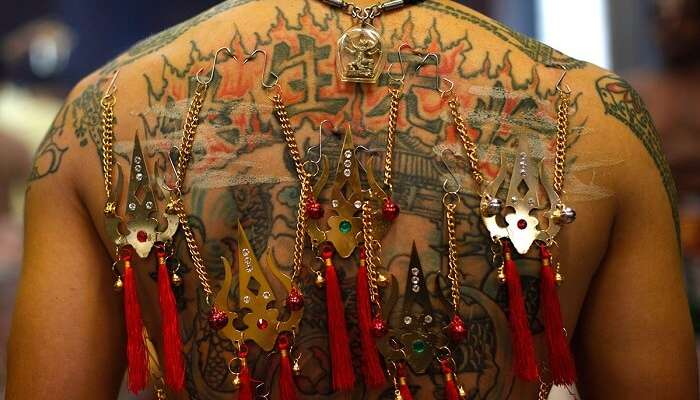 Okay! Statutory warning first – the processions during this festival is not for the light-hearted. Sharp skewers pierced through tongues, cheeks and bodies as a practice of self-mortification, the devotees may send shivers down an onlooker's spine. Celebrated in early February on the brightest moon night, Thaipusam worships lord Murugan and can be easily compared to the popular Thanksgiving festival.
Key attractions: Ornate, colorful frames – Kavadis being carried to the temples, sacrifices, and shoes during the processions
Don't miss: The final stage of the procession, sweets that are distributed after being served as an offering to God
When: 8th February 2021
4. Singapore Art Festival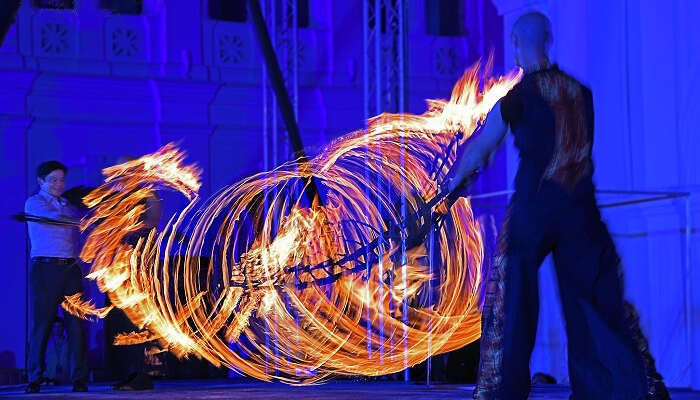 A must for culture buffs, the Singapore Art Festival is home to ensembles, music, theater acts, international dances and art installations. With great talent to be seen and heard around for almost an entire month from May, it is among very few fests which celebrate such diverse range of art forms on one platform. This deserves to be your one of the must attend festivals in Singapore 2021.
Key attractions: International film screenings, painting competitions, and nothing really is not an attraction if you have the right taste for art
Don't miss: Street performances
When: 15th – 31st May 2021
5. Hari Raya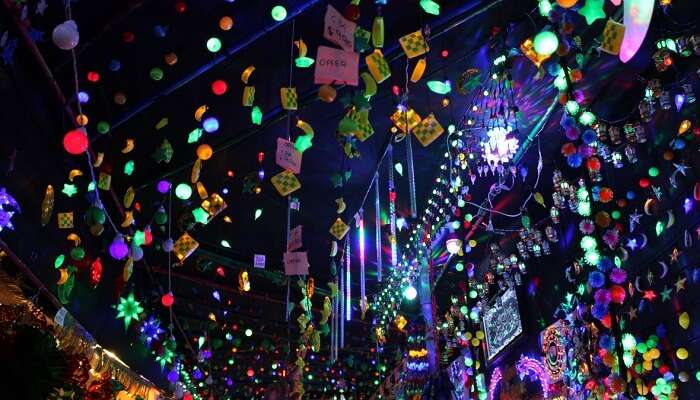 Among the other famous festivals in Singapore, this is the local version of Eid which is celebrated after the month-long fasting of Ramadaan. This is one of the traditional festivals in Singapore. The Muslims in Singapore put on new clothes and begin their day by visiting the nearest mosque where they offer their prayers. Rest of the day is spent by visiting the friends and relatives.
Key attractions: The colorful streets, the festive attire, mouthwatering delicacies
Don't miss: Decorated bazaar at the Sultan Mosque, breaking fast rituals at any mosque in the neighborhood
When: 23rd – 24th May 2021
6. Dragon Boat Festival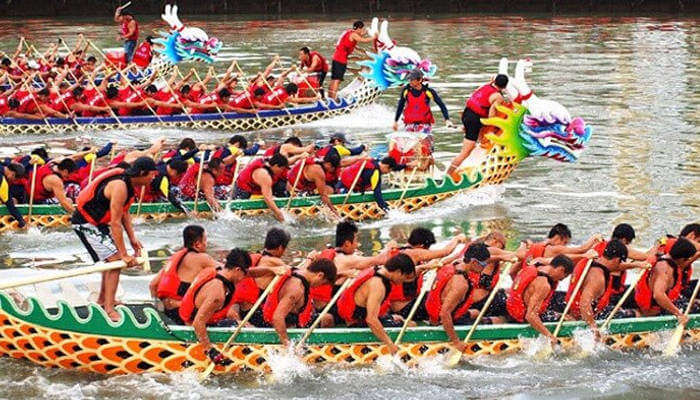 Known as the Duanwu Festival, Dragon Boat Festival is one of the popular cultural festivals in Singapore. Dragon Boat Festival is a Chinese festival and it is celebrated in a grand way in Singapore as well. It falls on the fifth day of the fifth month of the Chinese calendar. On this day dragon boat races are organised and in Singapore, you can become a part of this race at Bedok Reservoir. If you are up for some wine and rice dumplings, then you must attend this festival.
Key attractions: Boat races at Bedok Reservoir and DBS Marina Regatta.
Don't miss: After enjoying the race you can indulge in the games which are organised at the venue.
When: 25th June 2021
7. Singapore Food Festival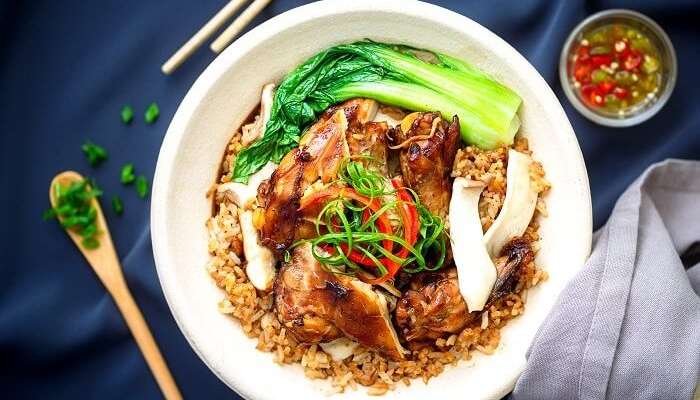 Organised by the Singapore Tourism Board, Singapore Food festival and is the best on this list of Singapore festivals 2021. All the foodies must attend this festival. It is organised from June to July and you can taste all kinds of delicious cuisines. You can also witness the food competitions at this festival. Singapore Food Festival celebrates the local perennial food and it is popular worldwide.
Key attractions: Themed celebrations and culinary workshops
Don't miss: Try the authentic local food and learn how to make it.
When: 17th July – 24th July 2021
8. National Day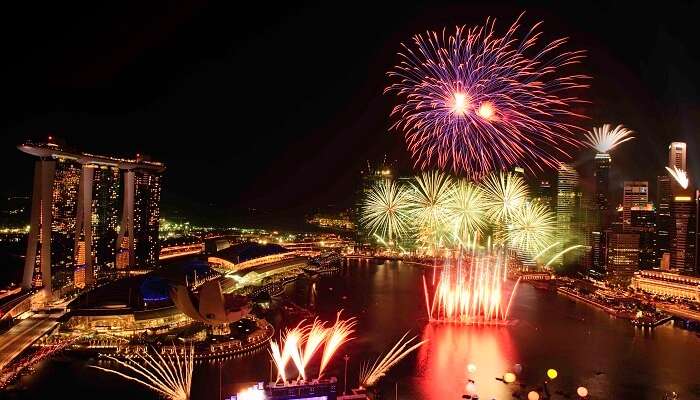 The nation celebrates its freedom from Malaysia on its National Day – the most popular among festivals in Singapore. Like all, it has a public display of its culture, heritage, defense, power, and diversity. Another special feature is the stunning display of fireworks on the eve of the day. Witness the elaborate celebrations of the Singapore National Day.
Key attractions: National Day rally and parade
Don't miss: Fireworks at Marina Bay
When: 9th August 2021
9. Hungry Ghost Festival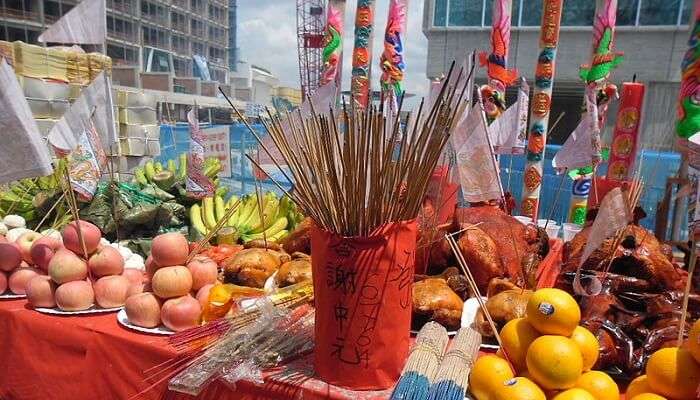 The Hungry Ghost Festival is a traditional Taoist and Buddhist festival and is one of the unique festivals in Singapore 2021. It is believed that on this day the ghosts of ancestors come out of their graves. The locals in Singapore visit the grave of their ancestors and keep food for them so that when they come out they can have food. Isn't it interesting? The festival is also called Zhongyuan Festival or Yulan Festival.
Key attractions: Tents and performances.
Don't miss: You can visit the graves and see what all the locals keep for their ancestors.
When: 2nd September 2021
10. Mid-Autumn Festival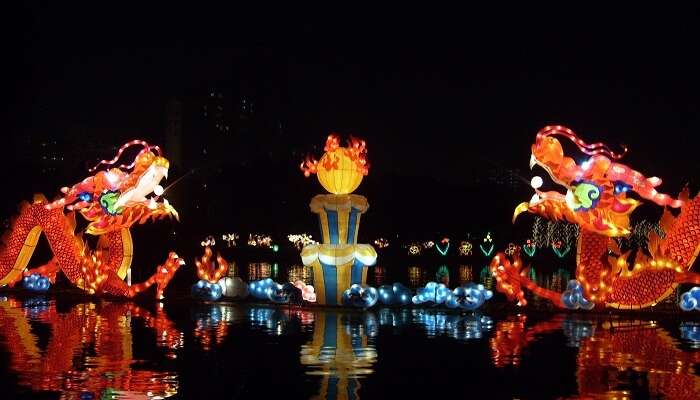 Also known as Lantern festival, Mid-Autumn festival  is one of the most popular Singapore festivals. It celebrates the legend of Chang Er – the lady who, apparently floated to the moon after swallowing the elixir of eternal life and now resides on the moon. Be a part of this exciting festival in Singapore.
Key attractions: Traditional dances, performing arts groups, stalls selling mooncakes
Don't miss: Opening ceremony, and the beautifully decorated lantern in various shapes design
When: 1st October 2021
11. Deepavali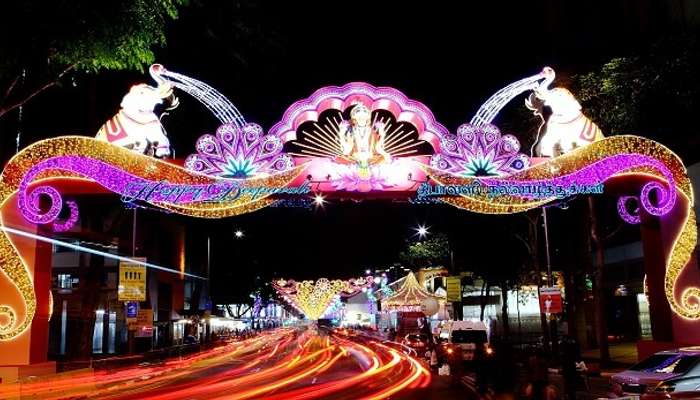 Indian connection, folks!  Singapore celebrates Diwali like nobody does it outside India. Like India, Singapore celebrates it on the 15th day of the Kartik month. Interestingly, Singapore Deepawali lasts for a week. With vivid hues of warm golden lights, the Hindu community all over Singapore celebrates the festival spreading joy and cheer. Indian festivals in Singapore are celebrated with full pomp and show.
Key attractions: Fireworks, display of light, shops full of fragrant garlands, incense sticks, shopping
Don't miss: Exquisite delicacies trying visiting a local's home
When: 14th November 2021
12. Singapore River Festival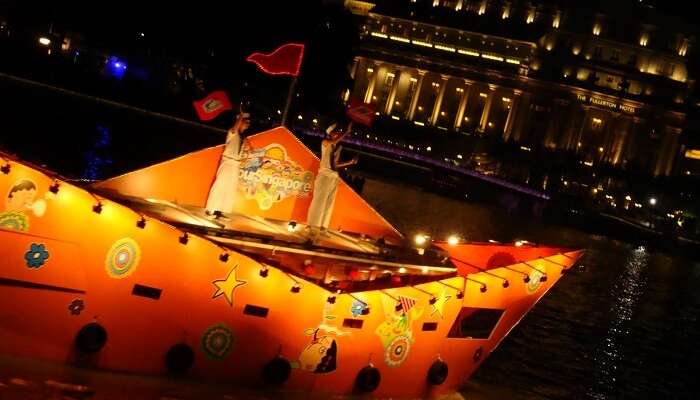 Well, this one among the festivals in Singapore is about illusions on the river water. International artists and DJs spend a week here to ensure that the outdoor parties are grooved by all.  Parades and performances along the river Singapore celebrate the origination of the country Singapore. The folk performances are a delight to watch.
Key attractions: Folk performances, optical illusions, and heritage shows
When: Yet to be announced
13. Singapore Night Festival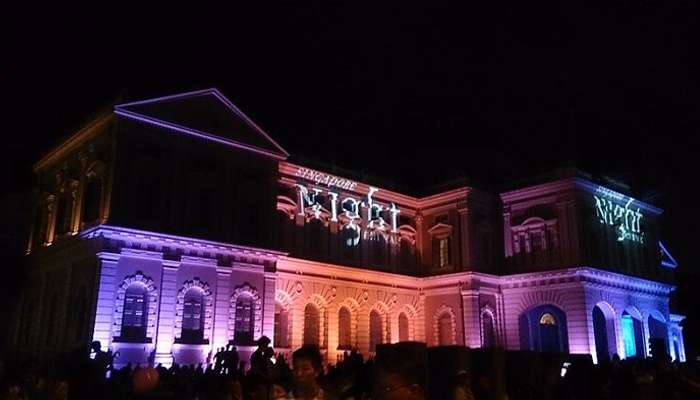 From traditional performances to original work of the street artists, Singapore Night Festival has it all. Held at Bras Basah Bugis in August, this festival attracts a lot of tourists every year and so it is one of the most popular Singapore festivals 2021. Last year performances like Anjaneyam – Hanuman's Ramayana, MMO by Sweet Tooth, and Poetry and Bronze: Instrumental Adaptations of Serat Ramayana were held at this festival. For this year's performance you can check out the website.
Key attractions: Interesting line-up of arts, heritage and cultural experiences.
Don't miss: The night performance and activities organised for couples.
When: Yet to be announced.
14. Singapore Film festival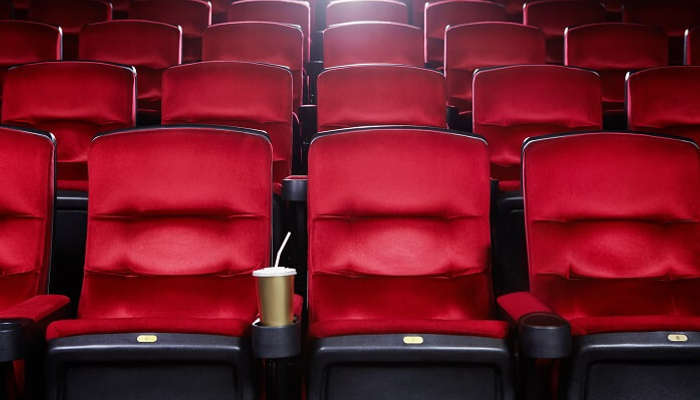 Singapore International Film Festival is one of the major events organised in Singapore since 1987. You can attend the screening of some of the greatest international films. This festival is a global platform for the best of Southeast Asian and Singapore cinema. Last year films like Wet Season by Anthony Chen and The Truth by Hirokazu Kore-eda were screened at this festival.
Key attractions: Excellent Southeast Asian and Singapore Movies.
When: Yet to be announced
---